<color=d2e139>
" Around one in four primary school children and one in three secondary school children are bullied at some point in their school life according to official estimates "
CSEF Online
Improving child safety through partnership
By using the latest technology, this unique learning experience
is now available to every school in the UK.
CSEF Digital Books
100% Full Access
Available on
Disc or through Website
It Doesn't Get Better Than This
[tagline_box  backgroundcolor="#fff" shadow="no" border="1px" bordercolor="#e8e6e6″ highlightposition="" link="http://themeforest.net/user/ThemeFusion" linktarget="" button="" title="DOWNLOAD THE CSEF BROCHURE NOW " description="By using the latest technology, this unique learning experience is now available to every school in the UK.  It is cost effective, stimulating and allows more flexible teaching!!"]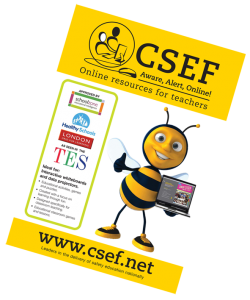 [/tagline_box]

The National Union of Teachers is proud to work with the Children's Safety Education Foundation (CSEF) on its safety resources. Safety education is of the utmost importance to teachers and it is vital to the development of our young people into secure and confident young adults. Teachers are always looking for high quality, high standard resources to help deliver safety messages in schools and CSEF has provided this with Respect. The resources have been very well received in the classroom by both teachers and pupils.

We endorse and support the work that the Children's Safety Education Foundation does to promote the benefits of preventative safety education and to help schools achieve high standards in behaviour and safety
within the new Ofsted Framework. The Children's Safety Education
Foundation practices and promotes effective, innovative teaching
in primary and secondary schools, and its digital programmes
facilitate the delivery of key competencies related to health, safety
and wellbeing.
 
'Coventry Citizens Advice Bureau and the Children & Young Persons' Project wholly support the Money Wise financial literacy programme. In a period when the profile of financial education is on the increase across the school curriculum, effective and concise financial literature such as the 'How to manage your money' booklet helps to provide students and parents with a vital understanding of financial matters. The Money Wise literature also provides an excellent platform on which to promote financial education to the wider community throughout the voluntary sector.'

.

We are very happy to endorse 'Anti-Bullying – The Young Person's Guide' produced by the Children's Safety Education, and believe that the guide will be an excellent resource for use in schools as it provides clear opportunities for young people to take part in a range of crucial discussions around all the issues of bullying. By working together we can make a difference!